Will

- University of Minnesota - Class of 2024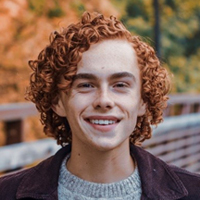 "Waiting a year to start college wasn't what I originally wanted, but it's a sacrifice I am willing to make to not go into debt."
Hometown:

Quad Cities, IL
GPA:

3.83
ACT:

22
Major:

Environmental Sciences, Policy and Management and Music
Goals:

Enjoy myself and learn what I am passionate about and want to pursue
Ever since I went with my brother on a college visit to University of Minnesota, I knew I wanted to go there. I have always clicked with the Twin Cities, and whenever I would visit my aunt in Minneapolis I could see myself living there in the future.
I decided to apply to U of M's music department (I play the French horn), so I had to audition. I had taken a lesson from one of the professors auditioning me, so I felt comfortable and confident. I also met with one of the music professors, which helped me envision my future as a music major.
Good News, and Not So Good News
When I received my acceptance from Minnesota—and a generous music scholarship—I was happy, but I also knew that as an out-of-state resident, I couldn't afford it. Like my three older brothers, I was responsible for paying for college. My family was able to help cover some of my living costs, but it was up to me to fund the rest of my education. With U of M's out-of-state tuition more than double that of tuition for in-state residents, it was going to be a stretch even with the scholarship.
I considered two smaller colleges—Hamline University, also in Minnesota, and Augustana College in Illinois. Both had offered me financial aid, but not enough. I talked to the financial aid officers at both schools and asked if they could increase my aid package. Both schools were completely understanding and gave me more aid, but it still didn't make the schools the best choice financially.
It's Gopher Time
Honestly, I never seriously considered any of the schools on my list other than U of M. It is the flagship campus of the Minnesota system. I could major in almost anything and have access to phenomenal professors and internship opportunities. Besides music, I am also interested in environmental science and politics, literature, and Spanish. I knew U of M could accommodate all my interests. I had to figure out a way to make it work.
The only way I could afford U of M was to move to Minnesota and establish residency—which meant taking a year off from college. This wasn't my first choice—until the COVID-19 epidemic hit and put some things into perspective. I didn't want to pay outrageous costs—or go into debt-- for online learning and not get the college experience I paid for. It made more sense to delay my freshman year.
Gap Year or Community College?
I considered attending community college and transferring to U of M, but I had enough AP credits to cover most of my general education classes, so I would essentially be repeating courses I didn't need to take. I would also have to re-apply to U of M next year as a transfer student—and meet its transfer admission requirements which included completing 24 transferrable credits.
My other option was to defer my admission at U of M and take a gap year. If I took a gap year, I would not have to reapply to U of M for admission or financial aid. I had done a research report on gap years for school and learned a gap year can be anything—some people volunteer or travel, others complete internships or learn a language, some work full-time to pay for school.
Besides living with my relatives and gaining residency, during my gap year I plan to get involved with the human rights community in Minneapolis, get a full-time job, practice my music, and live a semi-normal young-adult life (pandemic permitting). I know one thing: I will know myself better because of this gap year, and develop a sense of direction for my future.
What I learned
Colleges have rules and requirements for gap years. U of M has a streamlined application process for students who want to defer enrollment. The university evaluated my reasons for deferring (financial reasons qualify) and would not allow me to take community college courses or attend another university during my gap year.
My financial aid package will be re-evaluated. My financial aid package might change next year, which is a little concerning. However, the financial aid office said that my admission status and financial aid package would most likely not change.
The Money Factor
After I gain residency in Minnesota, my tuition alone will be around $15,000 per year. I received $18,000 from the University of Minnesota for four years. I applied for private scholarships online and in my community, and I received approximately $18,000. I plan to work full time during my gap year to help fund my college tuition.
My Advice
Apply for local scholarships. I was surprised at the amount of scholarships I received. All were from local institutions. Apply to as many local scholarships as you can because there is a good chance they will pay off. Take time on the essays and supplemental materials. I worked on mine over the course of a couple weeks.
Be willing to make some sacrifices for the outcome you want. Waiting a year to start college wasn't what I originally wanted, but I realize now that it is the perfect choice for me. It is a sacrifice I am willing to make to attend U of M and not go into debt.
Read More Student Stories:
| | | |
| --- | --- | --- |
| | Sophie - UCLA "When I was waitlisted at UCLA, I didn't have much hope. From what I'd heard, hardly anyone gets off the UCLA waitlist." | |
| | Julian - Dartmouth College "I convinced myself that applying for an Early Decision was the only way I could get into a top school. But after applying ED, I immediately regretted it." | |