Sadie

- University of Nebraska - Class of 2025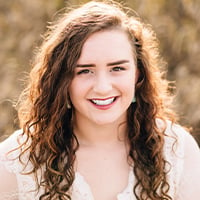 "I am covering 95 percent of my college costs with scholarships. It is hard to set yourself down and complete scholarship applications, but you have to look past the 'now' and invest in your future."
Hometown:

Loup City, NE

High School GPA:

96.67/4.0 (weighted)

ACT:

23

Extracurriculars:

Future Farmers of America, Student Council, Fellowship of Christian Athletes, National Honor Society, Superintendent's Advisory Committee, 4-H, Science Olympiad, Live Free, St. Josaphat's Youth Group, and Track.

Major:

Grassland Systems and Animal Science

Goals for college: My goal is to be active in my new community, diligent with my studies, and to make life-long memories and friends.
Choosing where to apply to college was easy for me. I loved being in my home state of Nebraska, so I knew I wanted to go to college here. I grew up on a cattle ranch and plan to pursue that same field on my own, so I was looking for a college with a really good agricultural program. I had just two universities in mind, University of Nebraska – Kearney (UNK) and University of Nebraska's flagship campus in Lincoln (UNL).
A Big College in a Big City or a Smaller College Close to Home?
I have always been curious about UNL because it is the most well-known, hyped-up university in the state. My parents also attended UNL, so I have always been somewhat interested in it. However, I wasn't sure if I would truly like UNL. Coming from a small rural town with a population of roughly 1,000 people, I found Lincoln, which is the state capitol, intimidating. The thought of living two and a half hours from home, driving on the interstate, and navigating my way through a large city made me nervous.
At first, I wanted to go to UNK because it was both smaller than UNL and closer to home. At UNK I could study agribusiness – but it wasn't entirely what I was looking for. Agribusiness deals more with the financial side of agriculture. I am interested in sustainable agriculture and ranch management — which was the focus on UNL's program. UNL has an amazing agricultural sciences campus where I could study grassland systems for grazing livestock, as well as animal science.
I was happy when I was admitted to both universities, but now I had to decide. I knew UNL had an amazing sustainable agriculture school, but I wasn't sure I'd be able to survive in a city. Fortunately, despite COVID-19, I was able to go on an in-person visit to Lincoln.
What a Difference a Tour Makes
UNL has three campuses, each in different parts of Lincoln. The City Campus is the largest and is where most of the academic buildings, the student union, and most classes are held. The East Campus is where the College of Agricultural Sciences and Natural Resources (CASNR) is located—and I would be taking most of my classes there. There is also the Innovation Campus where many of the food science courses are held. Fortunately, UNL offers bus transportation between the campuses.
I did not think I would feel welcomed on the City Campus, but I was wrong. When I arrived, current students came out to greet me, and they were helpful and seemed happy to be there. On the tour, I found I was more impressed with UNL than I thought I'd be. The campus was clean, innovative, and modern. There were so many awesome sights, recreational facilities, and resources for students. It was a lot to take in, but I really liked it.
My tour guides were very friendly and embraced me enthusiastically. They all seemed genuinely happy to be attending UNL. Some of them were also from small towns, and they said choosing to go to UNL was their best decision thus far. They reassured me that it didn't take long for UNL to feel like home to them.
Commuting to East Campus
Next, I drove to East Campus—which was about a 20-minute drive through town. The traffic during the commute was a bit overwhelming, but I managed nonetheless. On UNL's East Campus, I instantly felt at ease. East Campus has a much smaller student population than City Campus, and I just loved the atmosphere. I was called by name and given a personal tour specific to my interests and major. It was clear that I would be surrounded by students as passionate about the agricultural industry as I am.
I realized then that I was interested in Kearney because I wanted a college that felt "comfortable". But I knew that attending UNL would help me blossom into the person I want to become, enable me to pursue my academic dreams, and give me life-long relationships and memories. Eventually, I would get used to the drive, the campus, and the large amounts of people and come to love it once I got the hang of things.
After I got home, I decided to jump out of my comfort zone and attend UNL. Go Huskers!
My Ups and Downs
My best moment was when I learned I had received the Susan T. Buffett Scholarship which provides roughly $10,000 a year. It was a relief knowing that, at least for my first year, I won't have to take out any loans.
Trying to take the ACT during COVID was difficult. My class began doing ACT prep as Covid-19 shut down schools. Then, when we came back in the fall of 2021, we were forced to take the ACT right away. After that, it was close to being too late to retake the test. I submitted my scores to my schools, but they were not outstanding.
The Money Factor
I will not be getting any financial help from my family. I am covering 95 percent of my college costs with scholarships. I also received a grant from UNL covering 5 percent of my costs. I was motivated to apply for a lot of scholarships because I simply want to be able to come out of college with minimal debt. I applied for at least 25 scholarships and won roughly 15.
My Advice
Apply for local scholarships. The effort is worth it.

Almost all the scholarships I applied for were scholarships from local foundations and organizations. It is hard to set yourself down and complete scholarship applications, especially during senior year, but you have to look past the "now" and invest in your future. Every night during the school year, I spent from one to three hours working on scholarships. I worked on them a little bit every day, so I would not get burned out.

When writing your essays, be authentic.

Do not write what you think others might want you to write. Write with a passion and be true to yourself.
How Did CollegeData Help You on Your Road to College?
I think CollegeData is a great resource for students to use in every step of the college admissions process. It helped me by showing the financial specifications of every college I was interested in, and it showed me the different types of aid available to students.