Resources / Scholarship Central
How to Watch Out for Scholarship Scams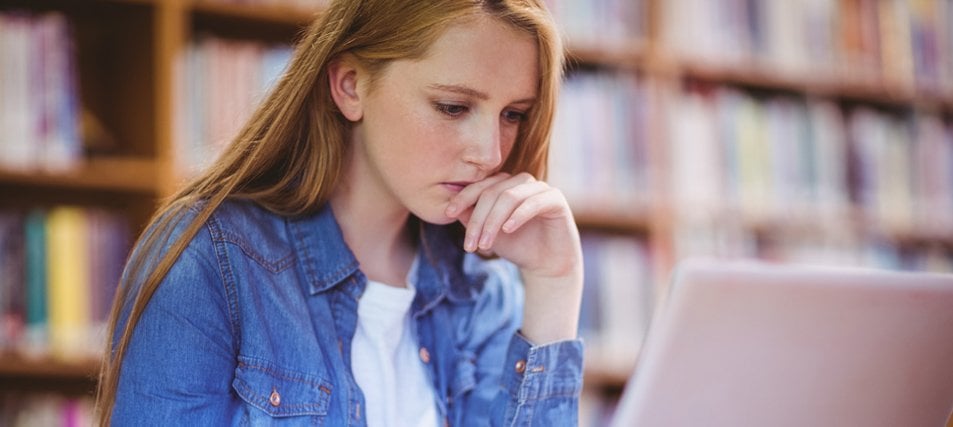 Fake scholarships can be a real problem. Here are some telltale signs of private scholarship scams and what to do if you fall victim to one.
According to the U.S. Federal Trade Commission (FTC), consumers reported losing more than $5.8 billion to fraud in 2021, an increase of more than 70 percent over the previous year. Who reported the most incidents of fraud? People aged 19 and younger, followed by people aged 20-29.
High school and college students in these age groups can easily fall for scholarship scams — and may end up losing money, wasting time, and giving away sensitive personal information to scammers who may later use it for identity theft.
Here are some things to be aware of as you search for scholarships to help you avoid falling for scholarship scams.
Types
of Scholarship Scams
The Better Business Bureau publishes a list of typical scams students should watch out for:
Phishing websites: "Phishing" websites look like legitimate websites, but their sole purpose is to get information — your personal information. An advertisement for a scholarship on social media, for example, might lead you to one of these phishing websites — and to an online "application" that asks for personal information, such as your Social Security or credit card numbers.
Fake checks, invitations, and fees: You might receive a personalized invitation to apply for a scholarship – or an email or letter announcing that you have won a scholarship – you just need to pay a processing fee first. Some scammers send phony checks to students and ask them to send payments for tax or other administrative services.
Free seminars: Another type of scam invites you to a free financial aid seminar to learn more about grants and scholarships — but the seminar is really a sales pitch for a paid scholarship search service. When you sign up for the service (and pay in advance), you may never receive any scholarships, or you'll be given a list of scholarships to apply for on your own — a list you could have in some cases researched yourself.
How to Tell if a Scholarship is a Fake
The FTC has outlined several signs of a scholarship scam. Be wary of statements like these:
"This scholarship is guaranteed, or your money back." No one can guarantee that you'll get a scholarship or grant. If the company promises to refund your "processing fee" if you don't receive a scholarship, you will probably have to jump through impossible hoops to get it.
"You can't get this information anywhere else." Most scholarship information is not secret and is available for free. Your high school counselor or college financial aid office is one free resource. There are multiple websites that list scholarships, such as CollegeData's free Scholarship Finder.
"I just need your credit card or bank account number to hold this scholarship." If you hear this, it is time to hang up the phone, delete the email, exit the chat, or otherwise walk away. Never share account numbers or passwords for bank accounts or credit cards or provide your Social Security number when applying for a scholarship.
"We'll do all the work." "All the work" could be a few minutes of searching that you could do yourself. Even if a company finds potential scholarships for you, they usually don't fill out the scholarship applications, which is the more time-consuming part.
"There's a small fee for the scholarship." No legitimate scholarship charges a fee to apply or to receive scholarship money. Take the FTC's advice: "Never pay to apply for a scholarship. If a company promises you a scholarship or grant in exchange for a 'processing cost,' 'redemption fee,' or other upfront payment, walk away."
"You've been selected by a national foundation to receive a scholarship." If you hear that you won or are a finalist for a scholarship that you don't recognize, be suspicious. If you don't remember contacting the organization or entering the contest, you probably didn't.
"You can win unclaimed scholarships." The scholarships that supposedly go unclaimed are mostly awards with very specific criteria that few people are eligible for, such as scholarships intended for the children of the sponsoring companies' employees.
Other Ways to Spot Shady Scholarships
Official-sounding names and offers too good to be true. Watch out for organization names that include words like "Federal" or "National," or web addresses that sound as if they are related to the federal government. Also, beware of guarantees no one could possibly fulfill — or zero eligibility requirements. As several consumer safety websites warn, if an offer sounds too good to be true, it probably is.
Membership fees. Be wary of "honor societies" with prestigious-sounding names. Sometimes these organizations recruit students (and parents) with the lure of exclusive scholarships—for the price of membership. While this may seem tempting, your time and money might be better spent looking for awards you are more likely to get — for free.
High-pressure tactics. If someone contacts you by phone, or you attend a "seminar" on how to win scholarships or increase financial aid, don't allow yourself to be rushed into a decision or payment. Be skeptical of "limited time" offers or "testimonials" from others in the audience. They may be actors.
Missing contact information. Legitimate scholarships will provide an email, a mailing address, a phone number, and often the name of someone to contact if you have questions. If these items are missing from a website or application, be careful.
No eligibility requirements. Some scholarships don't require applicants to write essays or achieve a minimum GPA. But a legitimate scholarship usually has some way to distinguish its recipients. It could be the state you live in, a club that you or your parents belong to, or the major you plan to study. Learn some unusual ways to qualify for scholarships.
How to Avoid Scholarship Scams
In addition to staying aware of some of the tactics scholarship scammers use, do your own due diligence whenever you search and apply for scholarships.
Google the name of the scholarship or the scholarship sponsor. The FTC recommends searching for the name of the company or organization followed by the words "scam" or "complaint." If you see multiple complaints, it's a red flag.
Ask good questions. If the company or organization is reluctant to answer your questions about eligibility requirements, the application process, or anything else, you might want to think twice about applying.
Avoid paying for scholarship information. Again, most information about scholarships is available for free. You should never have to pay to apply for a scholarship or to receive scholarship money.
How to Report Scholarship Fraud
If you encounter a suspicious or fraudulent scholarship, it's important to report it right away.
Applying for scholarships is a lot of work. Investigate any scholarship you apply for — and trust your instincts. If something about the scholarship or organization doesn't feel right — it probably isn't.
To learn more about scholarships for college visit Scholarship Central on CollegeData.