Resources / Scholarship Central
How to Qualify for an ROTC Scholarship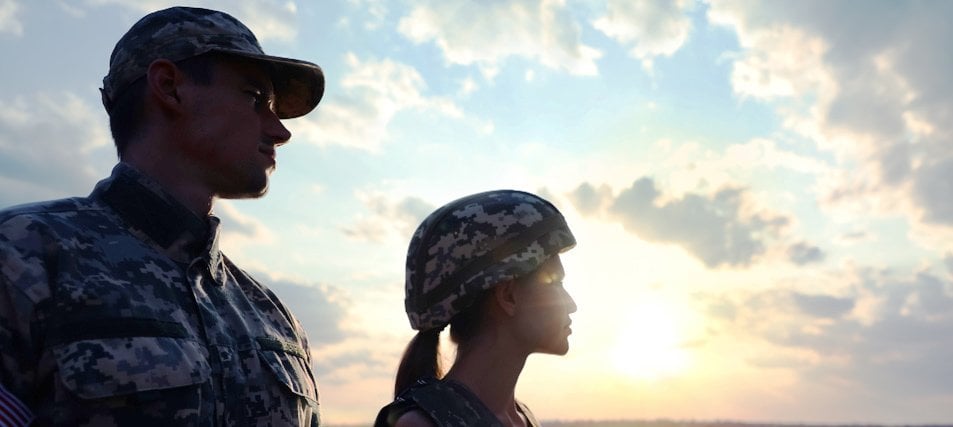 The ROTC offers college scholarships for students who commit to serve in the military.
An ROTC scholarship will cover most of your college expenses in return for your participation in military training while in college and service after you graduate. Whether you are a student interested in a career in the military or looking for a well-structured career path after college, an ROTC scholarship may be an option to consider. Here's what you need to know before you apply.
What Is ROTC?
The Reserve Officers' Training Corps (ROTC) is an officer training program for college students who commit to serve in the U.S. military after college. There are over 1,700 civilian, military, and junior military colleges that host and participate in an ROTC program. The Army, Navy and Air Force each has its own ROTC, and while the Marine Corps does not have its own ROTC, there is a Marine option of the Navy ROTC. You can find information about ROTC programs (including host schools, tuition assistance, eligibility requirements, post-graduation benefits and more) on their websites.
Remember that ROTC scholarships are among several forms of aid offered by the military. Another form of aid is offered by the Coast Guard through the College Student Pre-Commissioning Initiative (CSPI). If accepted into this scholarship program, students will be enlisted in the Coast Guard, complete basic training during the summer, and receive full funding for up to two years of college.
How Can ROTC Help Pay for College?
High school students who apply for an ROTC program are eligible for scholarships covering the full cost of tuition, fees and textbooks for four years, plus a monthly stipend for personal expenses. Students who have financial need beyond what is covered by an ROTC scholarship may seek supplemental aid from the federal government or other sources.
When you accept an ROTC scholarship, you are legally bound to serve in the military for a certain number of years. If you fail to fulfill the academic or military service requirements of an ROTC scholarship, you could face disenrollment from the ROTC and could be held to additional active duty and repayment of ROTC financial assistance.
ROTC Scholarship Requirements.
ROTC Courses. If you enroll in an ROTC program and receive an ROTC scholarship, you are required to take ROTC courses in addition to your other college classes. Most colleges that host an ROTC program offer classes on the history, structure, and function of the military branch in which you are participating, and other branch-specific classes.
ROTC Training. In addition to the academic component of the program, you will also receive military training. This includes leadership theory, field operations and tactics, health and physical fitness. In this way, ROTC programs bring elements of military life and service to the college experience. Students who do not want to be immersed full time in a military environment may consider participating in an ROTC program rather than attend a military college.
ROTC Summer Programs. As part of their professional and leadership development training, ROTC cadets must participate in summer training at various locations each year.
Students in Army ROTC attend Basic Camp in Fort Knox, KY, which covers classroom and field training in an accelerated time frame of four weeks. The camp qualifies freshmen and sophomores for enrollment directly into the Advanced Course, which consists of elective courses taken in the last two years of college, and a five-week advanced summer program also conducted at Fort Knox. The Advanced Course also requires a commitment to serve as an officer in the Army after graduation.
As part of the Air Force ROTC program requirements, cadets must complete an Air Force ROTC General Military Course their freshmen and sophomore years, a Professional Officer Course their junior and senior years, and a 13-day summer field training between their sophomore and junior years at Maxwell Air Force Base in Alabama.
Navy ROTC midshipmen are required to participate in various training programs during the summer, including the NROTC Indoctrination Program (which is basic militarization and training required for all midshipmen the summer before freshman year) and CONTRAMID (which is surface, submarine, aviation, and Marine Corps Orientation training for NAVY ROTC second and third class scholarship midshipmen).
ROTC Service Commitment after Graduation.
Each branch of the military that offers an ROTC scholarship has its own specific ROTC service commitments and requirements:
The Army ROTC scholarship requires eight years of active service after graduation - four years of active duty and four years in the Army Reserve or Army National Guard.
The Navy ROTC scholarship requires five years of active duty service after graduation, while the Marine Corps and Navy Nurse Corps scholarship require four years of active duty service.
The Air Force ROTC scholarship requires four years of active duty service for those entering non-flight career fields, six years for those entering the air battle management/combat systems officer/navigator career field and 10 years for those entering the pilot career field.
ROTC Scholarship Qualifications.
ROTC scholarship application requirements vary somewhat among the branches that offer the scholarship but the following eligibility criteria must at a minimum be satisfied in all cases:
Must be a U.S. citizen
Must be at least 17 years of age
Must have at least a 2.5 GPA (3.0 for Air Force ROTC)
Must meet minimum SAT and/or ACT requirements
Must have a high school diploma
Must meet prescribed physical fitness standards
ROTC Scholarship Application Process.

If you are interested in an ROTC scholarship, you should visit your local military recruitment office or go to the website of the service branch you are interested in. Visit as early as possible, preferably during your junior year of high school, or early in your senior year. Scholarships often go to students majoring in subjects that are highly valued by the military, such as engineering, computer science, specific foreign languages, or nursing.
Army ROTC applications for high school students can be found online here through the Army's website, while applications for current college students are to be submitted to their college's Department of Military Science. Air Force and Navy ROTC applications for high school students can be found online through each service's website. Students interested in a Marine Corps ROTC scholarship must apply through the Navy ROTC.
For students currently enrolled in college, the Army and Navy ROTC both offer two- and three-year scholarships. The Air Force offers the In-College Scholarship Program (ICSP), which awards scholarships based on merit during two selection periods in the fall and spring.
Scholarship application deadlines differ by military branch. The current deadlines for ROTC scholarships are as follows:
Army ROTC – February 4, 2021
Air Force ROTC – January 14, 2021
Navy ROTC – December 31, 2020
JROTC for Early Interest.
High school students interested in the ROTC are encouraged to explore the junior ROTC (JROTC) for early experience in military training. Through drills, competitions, and a curriculum focused on military sciences, the JROTC aims to instill the mindset and discipline needed to prepare young adults for the relatively rigorous ROTC programs, with a focus on leadership skills development.
Be All That You Can Be.
ROTC scholarship graduates will enter military service as officers with various ranks and responsibilities, including, for example, safeguarding other soldiers, executing missions critical to national security, and managing millions of dollars in equipment. Success in such a position requires academic aptitude, physical fitness, leadership, management skills, political acumen, courage, and patriotism. If you are interested in becoming an officer in the U.S. military, the ROTC is more than a way to pay for college—it's a gateway to a wide range of careers, experiences, and connections.