Resources / Explore Your Options
Do's and Don'ts for College Fairs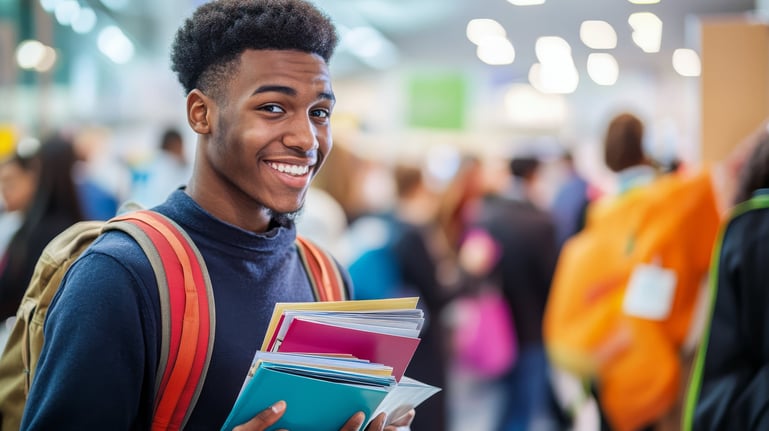 Attending a college fair – whether in person or virtually – can be a great way to learn more about colleges you're interested in, discover new colleges, and connect with admissions reps. Here's how to avoid information overload and make the most of the experience.
College fairs used to involve spending hours in a large, crowded high school gym or conference center, standing in long lines to speak with college reps, and schlepping around a bag full of college brochures and merchandise. Students were advised to stay hydrated, bring a snack, and wear comfortable shoes.
During the COVID-19 pandemic, college fairs became virtual experiences where students could learn about colleges from the comfort of their own homes. Now, students have the option to attend college fairs in person or virtually. Regardless of which style of fair you choose, you will likely encounter hundreds of colleges, which can feel overwhelming if you are unprepared. Here are some college fair do's and don'ts to help you make the best use of your time and stand out to admission reps.
DO: CREATE A SCHEDULE
Before you attend a college fair, do your research. Find out which colleges are attending the fair and how to connect with representatives of the colleges that interest you. Create a list of those colleges and visit the ones you're most interested in first. Think about what you know about these colleges already and what more you want to know.
DO: Test out your tech
For fairs held on a technology platform with which you are unfamiliar, download the software onto your computer or phone at least 30 minutes before the fair starts, and test it to make sure it works.
DO: PREPARE SOME WELL-RESEARCHED QUESTIONS
Before the fair, research colleges you're interested in visiting, and come prepared with questions that can't be answered on the college's website. For example, you might ask what academic programs are the most popular at the college, what specific academic programs are like, what support services are available, or what kind of student succeeds on campus. If the admissions rep can't answer your questions, ask who else at the college you can contact and get that person's contact information.
DO: Pay attention to how you appear on Screen Or in Person
While you should dress comfortably and casually for a virtual college fair, you should look your best. The same goes if you're attending virtually (no pajamas!). If you're attending a fair online, consider using a virtual background or point your camera away from any corners of the room that might be distracting.
DO:
CONN
ECT
WITH THE ADMISSIONS REP
Make every effort to speak with the representatives of the colleges you're interested in. Not only will you likely learn something new about the school but you'll show the admissions rep that you've taken the time to do some research into the college and that you're serious about finding a good college fit. Be sure to ask the representatives you meet for their contact information if they haven't provided it and use it if you have more questions later on. At some fairs, you may be able to schedule a one-on-one meeting with a college representative in advance.
DO: ATTEND AN INFORMATION SESSION
Some fairs offer general sessions on financial aid, athletic admissions, college essays, and other admissions topics. These might be led by an independent counselor or by college representatives. For example, fairs offered by the National Association of College Admissions Counseling (NACAC) often include break-out sessions where students and families can get advice from professional college counselors. These sessions can be a great opportunity for your parent or guardian to learn more about a topic you're interested in while you explore other events at the fair.
DO: TAKE NOTES AS YOU GO
Take time to pause for a few minutes to write down or record a summary of your conversations with college reps, your impressions of different colleges, and anything else that you want to remember. This information may come in handy later if you follow up with the admissions rep or apply to that school. One advantage to virtual fairs: presentations are often taped. Also consider asking admissions reps for a copy of their presentations if they are not already available.
DO: FIND THE RIGHT FAIR FOR YOU
Some college fairs are focused on a particular academic area or college type, such as STEM, or the visual and performing arts. Others specialize in a state or region or a public university system. For example, the California Out-of-State and International College Fairs feature colleges in the Western Undergraduate Exchange Program, which offers reduced tuition to California residents.
The State University of New York (SUNY) system hosts college fairs throughout New York state featuring workshops on how to apply to a SUNY school and presentations about various campuses within the SUNY system and their academic programs and scholarships.
Check with the local NACAC chapter for your state or region, as it may host college fairs featuring more schools closer to home. For example, the Southern Association of College Admissions Counselors (SACAC) holds several virtual fairs, as well as in-person events throughout the South.
DOn't: Be invisible
Engage with the admissions reps and ask questions! If you're attending virtually, turn on your camera! Admissions officers want to get to know you, so tell them about your interests and goals. This will not only help you learn more about the college, it will also demonstrate your interest and help the admissions rep remember you.
DON'T: ASK THE COLLEGE REP TO EVALUATE YOUR CHANCES OF GETTING IN
College reps are not at the fair to assess your chances of admission, so don't ask them to do that. Same goes for financial aid eligibility. You might consider estimating your admissions chances with CollegeData's College Chances tool.
DON'T: SEEK OUT ONLY WELL-KNOWN COLLEGES
Make a point to visit some colleges you've never heard of or are not all that familiar with. You might discover a school or program that could be a good fit.
DON'T: SKIP THE POST-MORTEM
After the fair, go back through your notes and look at any information you received as soon as you can. Then, ask yourself:
Which colleges stood out to you and why?

Which colleges can you cross off your list?

Which colleges would you like to learn more about, or perhaps visit?
Don't Forget to Follow Up
If you are interested in learning more about any of the colleges you visited at the fair, send an email to their representative thanking them for their time. Try to do this within 24 hours after the fair. Refer back to something specific you discussed or learned about the college, and feel free to ask more about it. You're not only following up and demonstrating interest in the college, but you're also making a connection with someone who might be involved in the admissions process.
For more information on upcoming virtual college fairs, visit the NACAC College Fairs website, or consult the College Fair Guide for a list of fairs in your region.