Resources / Explore Your Options
Do's and Don'ts for College Fairs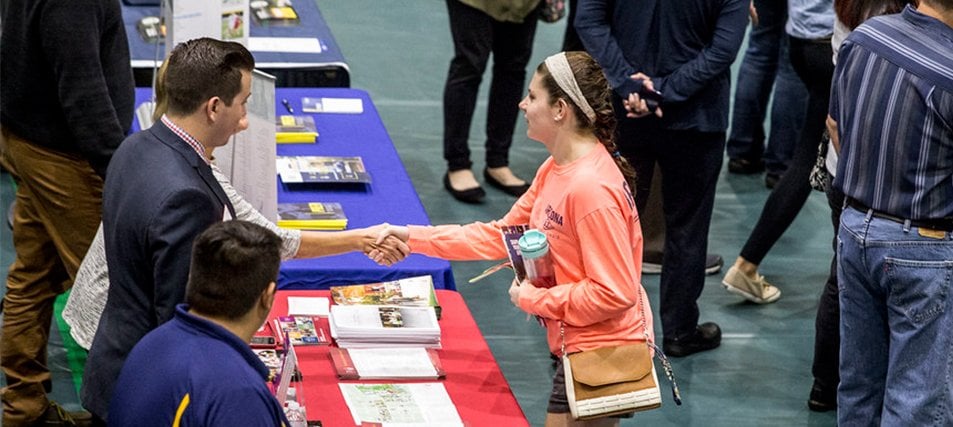 College fairs take place all across the country every year. Here's how to avoid information overload and make the most of the experience.
College fairs, which normally take place in the fall and spring, give you the chance to learn more about colleges that you're interested in, discover colleges you might not be familiar with, save money and time, do in-person research, get free advice, and demonstrate interest.
Yet, college fairs can also be chaotic and overwhelming. If you are not aware of what to expect, you might leave the fair more confused about where to apply to college than when you entered. How do you make the most of your time -- and stand out to admission reps -- at a college fair? Follow some of these do's and don'ts.
Do: Decide how you'll work the room
Before you attend a college fair, do your research. Find out which colleges are attending and where the college representatives you're interested in meeting are located. Create a list of those colleges and visit the ones you're most interested in first. Think about what you know about these colleges already and what more you want to know.
Do: Find out if badge scanners will be used
Some colleges may collect contact information from prospective students. Sometimes you'll be given a scannable badge containing your contact information, which the college rep will scan if you want the college to contact you. For colleges not using a scanner, bring self-stick labels with your name, contact information, high school, and major interest, so that you can paste the labels onto any sign-up sheets the college might be using.
Do: Connect with the admissions rep
Make every effort to speak with the representatives of the colleges you're interested in. Not only will you likely learn something about the school, but it is also an opportunity to show interest and your familiarity with the college.
Tip: Be sure to ask the representatives you meet for their contact information and use it if you have more questions later on.
Do: Prepare some well-researched questions
Before the fair, research the colleges you're interested in and come prepared with questions to help you learn more about those schools and uncover key information. For example, you might ask what academic programs are the most popular at their college, what students like most and least about the school, what financial aid programs the college offers, and whether admission decisions are made solely on numbers and stats or whether extracurricular and other activities matter.
Tip: If the admissions rep can't answer your questions, ask who else at the college you can contact and get that person's contact information.
Do: Attend an information session
Be sure to attend the college fair information sessions that you're interested in. Some fairs offer sessions on financial aid, athletic admissions, standardized testing, and other admissions topics.
Tip: These sessions can be a great opportunity for your parent or guardian to learn more about a topic you're interested in while you meet other college representatives.
Do: Take notes as you go
After visiting each college booth or table, pause for a few minutes to write down or record a summary of your conversation with the rep, your impressions of the college, and anything else that you want to remember. This information may come in handy later on if you follow up with the admissions rep or apply to that school.
Don't: Ask the college rep to evaluate your chances of getting in
College reps are not at the fair to assess your chances of admission, so don't ask them that.
Don't: Seek out only well-known colleges
Make a point to visit some colleges you've never heard of or are not all that familiar with. You might uncover a school or program that could be a good fit.
Don't: Skip the post-mortem
After the fair, you might be tempted to put the brochures and pamphlets you collected in a pile in your room and forget about them. Try not to. Go back through your notes and look at those brochures and pamphlets as soon as you can after you get home. Then, ask yourself:
Which colleges stood out to you and why?
What colleges can you cross off your list?
Which colleges would you like to learn more about, or perhaps visit?
Don't: Forget to follow up
If you are interested in learning more about some of the colleges you visited at the fair, send the representatives of those schools an email to thank them for their time. Refer back to something specific you discussed or learned about the college, and feel free to ask them more about it. You're not only following up and demonstrating interest in the college, but you've also made a connection with someone who might be involved in the admissions process.
Do: Find college fairs near you
Your college guidance office should post a notice listing upcoming fairs. If not, the National Association of College Admission Counseling (NACAC) sponsors many of these fairs and includes updated information about them on its website, nacacfairs.org.