Resources / Stories from College
John's Update From GeoRGia Tech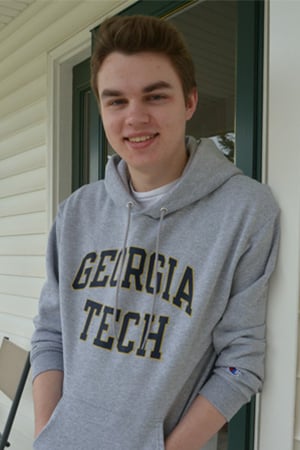 "It's important to know how and when to seek help. Especially at the start of my first semester, I felt like I had to do everything myself, when that's really not what most colleges want you to do."
Spread the Knowledge.
What was your freshman year like at Georgia Tech University?
I could have attended classes in-person at Georgia Tech during the pandemic. But for my first semester, I chose to attend classes remotely. That decision was not a fun one to make.
I'd had this idea in my mind of how my college experience would go and being forced to let go of the remnants of that image was certainly difficult.
But, I managed to work it out so I could do school first from my home in Wisconsin and then from my brother's home in Seattle, which led to a lot of great friendships and memories I definitely don't regret. Second semester, I was lucky enough to get an on-campus apartment and do my classes (still almost entirely remotely) from here in Atlanta.
What COVID protocols were in place on campus, if any?
The school tried to encourage and incentivize COVID testing as much as possible. They offered cookies or stickers for getting a test, and most students I knew just made it a habit to go every week. Along with being a really easy way to help everyone on campus, it also offered a lot of peace of mind for me and my friend group. The school has also been distributing vaccines to students; we were all able to get both doses before going home for the summer.
Was it easy to make friends freshman year?
Georgia Tech had a lot of online events and programs, especially in the first few weeks, that allowed me to meet people, but it was difficult to really become friends with anyone from only that.
I ended up finding the people who are now my best friends in a group chat for people staying home over the semester last fall. I was pretty active in the chat and we formed a group of about 30 students who all got to be really close. We watched movies over Zoom, played online games, and just chatted all the time, making the semester away from Atlanta bearable.
What was your biggest adjustment to college life?
My biggest adjustment was realizing just how important a strong support system is. Moving away to school meant leaving behind all the people who have been helping me my whole life; creating that kind of system essentially from scratch is a lot more work than I had anticipated. It's taken intention and real effort to build up a network of people to rely on -- not just friends, but mentors and adults who are willing to be there for me. It was quite scary coming into college knowing that it's up to me to figure things out.
The most surprising thing about college so far is just how much time and energy other commitments and responsibilities take up. I had assumed that doing laundry or getting groceries would be quick tasks, but not planning things out has resulted in me wasting a whole day or weekend on errands that I could have finished in one morning.
What extracurriculars were you involved with this year?
I was involved with the Veggie Jackets, a student organization focused on the vegan/vegetarian community at Georgia Tech, the Student Alumni Association (especially their Mentor program), and the Computer Science Theory club. A lot of the meetings were essentially just virtual presentations with limited amounts of interaction. I plan to get far more involved next semester as the in-person options should be much more accessible.
What's happening with your major?
I came into college fairly certain of my major in computer science, and there's been essentially no change there. If anything, I'm more confident in that choice after having completed introductory courses and getting to see what exactly a Computer Science degree will look like at Tech.
My favorite class so far has been Data Structures and Algorithms (CS 1332), a computer science class that starts getting into more specific aspects of efficient programming. It's often thought of as the class that starts preparing students for technical coding interviews, and it's been a really enjoyable challenge so far. It's fun finally seeing just a hint of what a software engineering job might look like and building up my toolkit of skills for jobs down the road.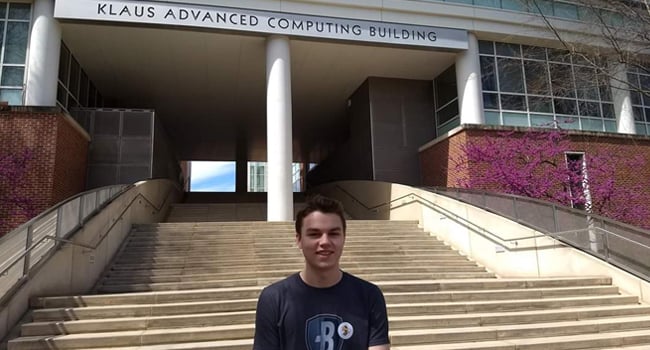 What are academics like at Georgia Tech?
The workload here has been intense, but I knew that would be the case going in. Most of my professors have been fairly lenient regarding virtual learning and its impacts, but there's most definitely still deadlines, quizzes, exams, and lots of work.
I've truly never been challenged like I have been here, and for the most part, I've enjoyed that aspect of Tech. The courses are rigorous enough that it takes more than just hours and hours of studying to do well, since there just isn't enough time to study like that. It's forced me to find other ways through, like developing new study strategies, collaborating far more than I did in high school, and figuring out what work actually matters and what can be put off.
At one point just about all my classes had big exams or quizzes within about a week's time. I had to figure out how to get enough studying done to at least feel decent about each exam while still taking care of myself, having time with friends, finishing other homework, and not going completely insane from the workload. The exams themselves went pretty well, but I'm honestly just proud of how much work I put in over that week. It definitely felt validating to know that my study habits and work ethic, which are not always the best, have improved.
What is the housing situation like?
Dorm life at this college is quite varying. The differences between living on east, west, or off campus are more striking than I thought they'd be. Overall, it really depends on what one might be looking for in their housing situation; east campus has a vibrant social scene and is always close to the action, while west has lots of green space, is fairly quiet, and has the better dining hall (in my opinion). It seems like there's something for everyone here, with a pretty large Greek life scene, apartments, suites, singles, triples, quads, and traditional dorms.
I lived in an apartment-style building, so I had a single room but I shared the apartment with three other guys. We had two bathrooms for the four of us along with a kitchen and living area, and I'll have the same setup (with the same roommates) next semester.
What advice do you have for high school students applying to college?
I wish I would've enjoyed the college admissions process a little more. It's fun to think about the future and to have all sorts of possibilities open in high school! It's stressful, yes, but letting that stress consume the whole process - especially the parts outside of your control - only makes it harder.
What is your advice for succeeding in college?
It's important to know how and when to seek help. Especially at the start of my first semester, I felt like I had to do everything myself, when that's really not what most colleges want you to do. Yes, a lot of responsibility falls on the individual, but working efficiently is definitely more valuable (and more fun) than trying a brute force, study-at-all-times attitude.
One specific example of this was as I was studying for a linear algebra midterm that was stressing me out; I coordinated with some friends and we set up a group study session the two nights before the exam. Instead of spending those two days grinding through problem sets that may or may not help me, I got other work done and then had a super productive study session that helped me do really well on the test.
Are you happy/satisfied with your college choice at this point?
Overall, I'm extremely satisfied with my college choice. As much as I'm sure I would have loved some of the other schools on my list, I can't even imagine what my life would be like right now if I hadn't chosen GT. I've gotten to meet so many driven and amazing people in classes and from organizations, and I can't wait for all the other experiences I'll get from this school.
It certainly wasn't easy to accept that my college experience would look so different than I had always expected it to. And honestly, even though things have worked out far better than I thought they would when I first decided to stay home, I'm still sad that I won't get as much time here in Atlanta. But obviously, the past is in the past, so I'm trying to make the best of the time that I do get here, regarding it as even more precious than I would have otherwise
Read More: