March 2022 1st Financial Bank USA Financial Goals Scholarship

®

Winner: Kendall F.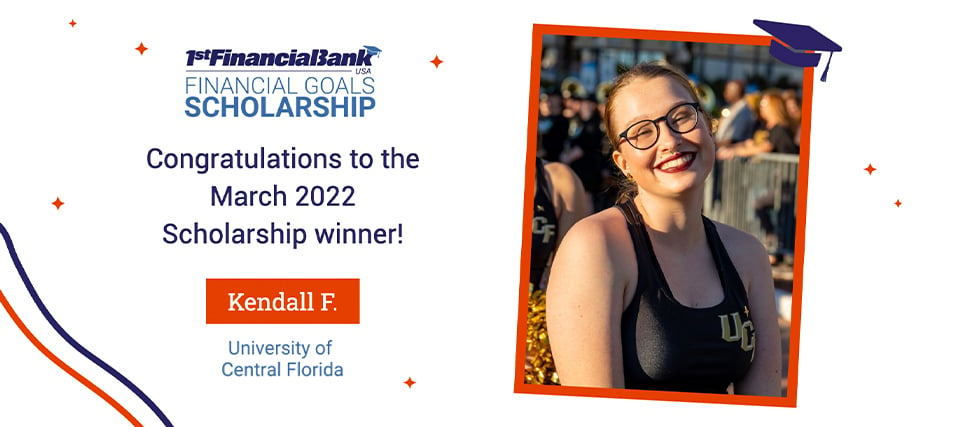 We are excited to announce the March 2022 Financial Goals Scholarship* winner is Kendall! Congratulations!
"When I received notice that I would be the recipient of the 1st Financial Bank USA Financial Goals Scholarship, it felt like a weight had been lifted off my chest. This is such an incredible opportunity and such a blessing. I'm so thankful that 1st Financial Bank provides this opportunity. College is expensive, and this scholarship is going to allow me to continue to pursue my secondary education without stressing about how I'm going to pay for college. Being debt-free is an incredible feeling and this scholarship allows me to continue on my journey of graduating college debt-free. I am so thankful for this opportunity and I'm excited to see where my education takes me!" - Kendall F.
Between tuition and living costs, college can be expensive. Therefore, students must find ways to save money on essential and non-essential expenses. In her scholarship-winning essay, Kendall shares her experience with saving money in college thus far and offers tips for other students to save.
"It's no secret that attending college can be incredibly expensive. From costs of attendance like tuition, fees, housing, and meal plans, to other costs like school supplies and dorm necessities, the expenses can rack up. One thing I'm incredibly grateful for is my parents stressing the importance of budgeting. I've held various jobs since the age of 16, and as soon as I was hired, my parents sat me down and helped me to set up my first budget. There's something so helpful about visually seeing where your money is going each month. This also is useful in making sure that you have enough income to make ends meet, whether that's paying for the groceries or setting aside money to go to dinner with your friends.
I'm an out-of-state college student, so when I moved to college, I moved 8 hours away from my family and friends. It's one thing to stick to a budget when you're living at home and having a majority of your expenses covered, but I had a rude awakening when I went to college. I didn't realize just how quickly expenses add up, because when you're financially independent, you have to pay for literally everything. From household supplies like toilet paper and paper towels (that would magically appear each week when I was home) to groceries, gas, car insurance, or any expense you can think of; everything has a price. One thing that has really helped me get a grip on my budget this semester was to think of a budget as making my money work for me. I reworked my budget, starting from my vital expenses (monthly car insurance, gas money, groceries, etc.) and working my way up to non-vital expenses, like eating out or spending money.
Another thing that has helped me clamp down on spending is switching up how I shop for groceries. I've really liked doing curbside orders at places like Walmart or Aldi. For one, these stores are (generally) cheaper than alternatives in my area, like Publix or Target. Additionally, when I order ahead or have a set budget and a set grocery list, I find that I spend less because I'm not just grabbing whatever catches my eye. I'm able to spend around $30-$40 a week on groceries and eat comfortably. This was something that I really struggled with last semester, but this new approach has been incredibly helpful.
My biggest piece of advice to other college students (or any students for that matter) is to pick a budget that works for you. With so many budgeting resources out there, what works for some people may not work for others. I've found that I've stuck more to my budget when I've used an app to track my expenses. Also, when you're budgeting, make sure to cover set expenses, but also leave enough money for entertainment! Especially in college, if you don't budget enough for that, you may not stick to your budget."
*The Financial Goals Scholarship is sponsored by 1st Financial Bank USA® (1FBUSA). Established in the year 1910, 1FBUSA provides quality community banking services in South Dakota, credit card and other financial services to college students and college graduates, and construction lending to builders, developers, and investors from coast to coast. 1FBUSA will award a $2,000 scholarship to a new winner each month through the end of 2022. View full rules and eligibility at 1fbusascholaship.com. CollegeData®, a free online college advisory service, has been provided by 1FBUSA for almost 25 years.