PENNSYLVANIA COLLEGES & UNIVERSITIES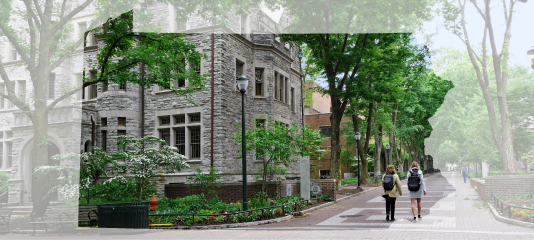 Virtue, Liberty, and Independence: Choosing a College in Pennsylvania
Home to the Liberty Bell, the first piano in the US, and the nation's first newspaper, Pennsylvania is an exciting state with a rich history. It is the 5th most populous state in the U.S. and is full of opportunities — especially in education. There's a good chance that curious students will find what they're looking for in Pennsylvania, from small college towns to exciting big cities.
Virtue, Liberty, and Independence: Choosing a College in Pennsylvania
Home to the Liberty Bell, the first piano in the US, and the nation's first newspaper, Pennsylvania is an exciting state with a rich history. It is the 5th most populous state in the U.S. and is full of opportunities — especially in education. There's a good chance that curious students will find what they're looking for in Pennsylvania, from small college towns to exciting big cities.
If you have decided to study at a university in Pennsylvania but are unsure of what field of study to choose, what better way to determine it than looking at the most popular career choices in Pennsylvania:
Culinary arts and hospitality
Medicine
Business management (including supply chain management)
Individual and Family sciences
Academia (Higher Education)
Of course, like many other U.S. states, Pennsylvania offers careers in many industries, especially in Pennsylvania's bustling metro areas. Whatever your goals, you're likely to find a lot of opportunity at a college in Pennsylvania.
Noteworthy College Towns in Pennsylvania
To get the best experience out of a college, you may want to explore popular cities that are either nearby or home to many colleges and universities in Pennsylvania. Let's take a look at five of the most popular options.
Philadelphia, PA
Philadelphia is a city rich with history, culture, and arts scene. Tourists and natives alike may even think it rivals New York City, Chicago, and even some European cities known for their cultural depth.
Young students and professionals flock to the city of brotherly love. You may never be bored in Philadelphia, but try to take it in slowly. If you end up enrolling at a college in Philadelphia, don't get too distracted by the city's lure that you miss your study sessions! The city is more expensive than the national average, but exclusive downtown student housing and a bustling cultural scene make this an ideal place for college.
Popular colleges in Philadelphia include the University of Pennsylvania, Temple University, and Thomas Jefferson University.
Pittsburgh, PA
If you're a fan of history, art, or sports, you may love Pittsburgh. The city is full of opportunities for students and recent graduates. Its technology sector is also highly developed, so consider choosing Pittsburgh if you want to break into a technical field.
Don't forget to visit the Carnegie Museum of Natural History and the Andy Warhol Museums, and have a famous Pittsburgh Salad afterwards.
Highly-ranked colleges in Pittsburgh are Carnegie Mellon University, Point Park University, and Duquesne University.
Greensburg, PA
A small college town around 30 miles from Pittsburgh, Greensburg is a famous cultural center in Pennsylvania with exciting bars, innovative restaurants, and a vibrant student community. If you want a rich college experience with affordable prices, consider studying in Greensburg.
Notable Greensburg universities include University of Pittsburgh-Greensburg, Seton Hill University, and Triangle Tech Inc-Greensburg.
Bethlehem, PA
Nestled between New York City and Philadelphia, Bethlehem is a relatively small college town with a secluded feel, although it is close to two great metropolises. It's is a very safe town to move to with plenty of student-related activities.
Bethlehem is home to some great universities, including Northampton County Area Community College, Lehigh University, and Moravian College.
Media, PA
Media is a small suburban town with the architecture of a big city. It is only 13 miles away from Philadelphia, allowing students to explore both the college town and the famous city of Philadelphia.
Media is famous for Delaware County Community College, Pennsylvania State University-Penn State Brandywine, and Pennsylvania Institute of Technology.
Which College or University in Pennsylvania is Best For You?
The college location you ultimately choose plays an important role in both your education and professional career. If your aspirations include becoming the next star athlete or having a prestigious career, you may need to be selective.
Here are 5 notable colleges in Pennsylvania:
University of Pennsylvania
Founded by Benjamin Franklin, the University of Pennsylvania is ranked 8th amongst national universities. It is a highly selective university with only an 8% acceptance rate and boasts small classes for personalized education.
Sports fans will be happy to know that the university competes in the NCAA Division I and is renowned for basketball and lacrosse. With popular majors in Business Management, Marketing, Social Sciences, and more, the school graduates many students with an average starting salary for graduates of over $68k.
Carnegie Mellon University
Located in Pittsburgh and renowned for high-quality education, Carnegie Mellon University is ranked 26th amongst national universities. Graduating students with an annual median starting salary of more than $74k, Carnegie Mellon is popular for its science and technology degrees.
Lehigh University
Lehigh University is located in Bethlehem, with easy access to NYC and Philadelphia. Its Finance, Mechanical Engineering, Accounting, and Marketing programs are highly renowned for their quality, and students rate classes and teachers at 5 out of 5 points.
Villanova University
The town of Villanova, PA is home to the renowned Villanova University. Many students and graduates praise the school's small classes, access to financial aid, strong athletic program, and popular majors in Business, Marketing, Health, and more.
University of Pittsburgh
The University of Pittsburgh is well-known for its School of Medicine, Education, and Engineering. It is a renowned research university, perfect for students who aspire to be top in their field. In addition, there are plenty of activities to participate in in the city, especially for sports fans.
Choosing the right college in Pennsylvania is an important decision for students. You may have some considerations when searching for the right school, including the field of study and career you aspire to, the right location, and the best college.
There are plenty of choices, so before overwhelming yourself by researching every detail about every school, take a breath and decide what's important to you and what you want out of your college experience. Understanding your goals can have a huge impact on your decision.
Find out more about each of the colleges and universities above (and other schools in Pennsylvania) by reviewing the results below.
We try to make content available to you on CollegeData.com that you may find helpful. The content may include articles, opinions and other information provided by third parties. If we can reasonably fact check articles provided by third parties and information used in those articles, we will. However, opinions of third parties are their own, and no fact checking is possible. The content on CollegeData.com may not apply to you or your situation. We recommend that you refrain from acting or not acting on the basis of any content contained on CollegeData.com without consulting with your parents, high school counselors, admissions representatives or other college counseling professionals. We will not be liable for the content on CollegeData.com or your actions based on any content on CollegeData.com.