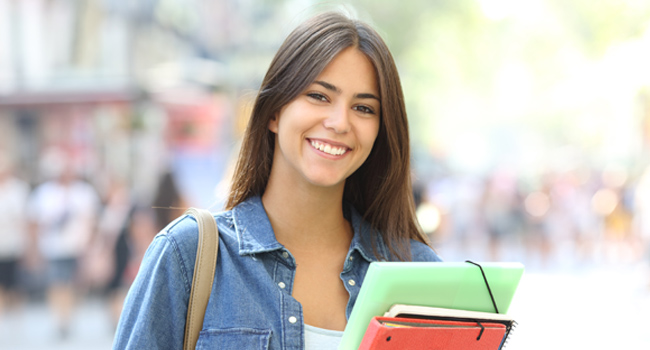 Let's Build Credit!
Welcome to CollegeData's financial literacy page dedicated to articles and 1st Financial Bank USA (1FBUSA) videos and resources to help you learn how to manage your money and build credit wisely during and after college.
1FBUSA has provided the CollegeData® service for over 20 years. In the same way we hope that CollegeData will be valuable to you as you prepare for college, we hope 1FBUSA will be helpful to you as you begin to learn financial independence and responsibility.
But first... what is a credit card?
Watch the video in this section to learn credit card basics and hear tips from a real student on how to use a credit card wisely in college!
Click "Apply Now" for rates, fees, and other important terms and conditions about 1FBUSA's Student Credit Card and to apply.
Scroll down to find more videos that cover each of the following topics:
Cash Access
Need emergency cash? Use your card at a designated automatic teller machine or present it to a bank displaying a Visa® sign.
Customer Service
Speak with a representative during business hours to get help with your account.
Mobile App
Manage your account 24/7 right from your mobile device and check your Available Credit, Current Balance, recent transactions and more.
Text Banking
Quickly and easily request and receive account information via text message, such as your Available Credit, Current Balance, and more -- without having to log into your account.
No Foreign Currency Conversion Fees
We do not charge a fee to convert foreign purchases and cash advances you make with your credit card to United States dollars.
Payment Flexibility
You can pay your balance in full each month, or pay the minimum payment due, or any amount in between – you choose.
Security and Convenience
Use your card at any of the millions of participating merchants around the world to purchase books, meals, gas, clothing, tickets, and more.
Zero Liability
Your card protects you with Zero Liability for Unauthorized Use – which means that "if you didn't buy it, you don't pay for it."
Start to build a good credit history by making payments on your account in a timely manner and by never exceeding your credit limit. Learn more by watching the video in this section.
Managing your money in college isn't always easy. Read the articles below about managing your money wisely and saving for your future.
Learn more about student money matters on 1st Financial Bank's Blog!
It has helped me out by knowing that I have a credit limit that I can use should I have a big emergency. It has made me feel even more independent.
I used my credit card this month to help pay for textbooks. By having a credit card, I can pay back the bill for my credit cards over a period of time (the first semester). This took a lot of stress off my shoulders, as college is stressful within itself!
My student card has helped me a lot. I used it to purchase books for school and small things such as food and gas that I needed.
Choosing the right college is one of the most important life and financial decisions you'll make.
1FBUSA believes students who choose colleges wisely will also want to learn how to use a credit card wisely.
We want to be your bank of choice to support you along the way.
Are you a College-Bound or College Student seeking a student credit card as you transition to and through college?
Click "Apply Now" for rates, fees and other important terms and conditions about 1FBUSA's Student Credit Card and to apply.*
* To open a credit card account in your own name, you must be at least 18 years old (or, if you live in Alabama or Nebraska, you must be at least 19 years old) and either a college student already enrolled in college or a student preparing to attend a 2-year or 4-year college.